These cabins are great for weekend getaways, camps, lake houses and more!
Our Pioneer cabin features a porch on the eave end, which allows you to benefit from the full width of the building by giving you more interior space. With the unique fold up porch design we are now able to offer a 21' wide and 46' long cabin. This gives you a footprint of close to 1000 sq ft! (we only offer this unique design in the 15' wide cabin with the porch folded up for transport)
Standard Features:
Treated skids
7 ½' sidewalls with cathedral design
2x6 PT joists standard (2x8 or 2x10 also available if required)
3/4" tongue and groove osb, plywood on floor
2x4 studs 16" OC with 7/16" osb sheathing with kiln dried white pine log siding. 30' or smaller get metal T bracing and house wrap. Siding end joints are sealed with Perma Chink energy seal and fastened with ring shanked galvanized nails in the tongue area so that no nails are showing on the siding
2x6 trusses with metal truss clips on all 16'wide. Smaller cabins have 2x4 trusses
Treated 5/4 deck boards on porch
Solid OSB sheeting on roof (plywood on porch) with 15# felt paper & 40 yr 29 gauge metal roof
Perma Chink Ultra 7 stain and gloss clear coat
1 solid fiberglass door painted to match roof (unless requested otherwise)
2-30x36 insulated windows are included, but we can add as many as you like. We recommend using 3x5 Egress windows in all bedroom areas.
Optional siding options
Rustic board & batten
LP 1x8 Lap siding
LP Smart Panel
Optional Interior Package (in kit form):
R-13 insulation for walls & ceiling
1x4 pine trim for windows & doors
1x8" tongue & groove white pine interior siding
1 starburst ceiling brace
Thermal 3Ht All Weather Shield insulation under floor
Stain Colors:

Roof Colors: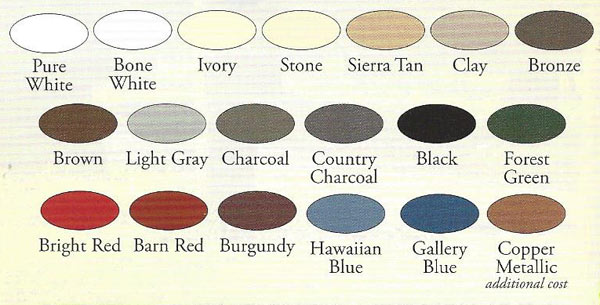 Disclaimer
Our cabins are built and delivered almost anywhere. We make every effort to meet all codes in your specific county, but please discuss all requirements with our sales department before making a purchase. Our cabins are delivered with the exterior only finished.  Once the electrical, plumbing and insulation have been completed, we will come back to install the T&G paneling if you are within our mileage radius.
What Our Customers are Saying
"The cabin is great! It was just what we were looking for and at a very reasonable cost. Delivery was on time and exactly where we wanted it. Couldn't have asked for better service. Thanks again!" – Richard Frazier, Cunningham, TN
"It was very refreshing to be able to take a concept sketch of a cabin and watch it become a reality. The workmanship was top notch, on schedule and "as promised. The level of customer service and personal attention I received from the project lead man was very uncommon in today's world, I would highly recommend Hilltop Structures to even my most demanding friends and associates!" – Scott Graves, Hartsville, TN