About Us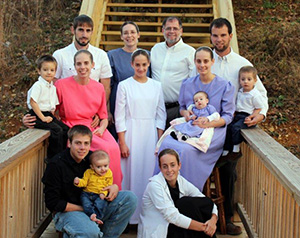 Hilltop Structures is owned and managed as a family business.
We are located in the hills of Dickson County in the small town of Cumberland Furnace, Northwest of Nashville, Tennessee. We are in a rural area of central Tennessee and able to offer services to clients in the whole state of Tennessee, Southern Kentucky & Northern Alabama.
Our goal is to have a small business where we can personally meet the needs of each individual customer and we do our best to explain the building process, features and options to you and so that your whole experience with HillTop Structures will bring you back to us again when you have other building needs!
We are a Beachy Amish Mennonite family who moved into this Community a few years ago from Ohio, we were looking for a good rural setting and Church to raise our family. We enjoy the friendly Tennessee folks down here. "How are Y'all doing?" and want to be an asset to the Community and Church. Dave has been ordained as a Deacon in our Mennonite church, we enjoy our Church family and want to be a blessing to our congregation. Our church is located in Vanleer, TN just West of Vanleer on HWY 49 past Jarmin's Market, look for the Lighthouse Mennonite Church sign. Our services start at 9:30 am on Sun Morning, we have services on the 1'st Sun eve at 7:00 pm a hymn singing that local people enjoy coming for when the weather is nice. You are invited to come to our services, & although Dave does preach, the Church Pastors take turns so he only preaches about once per month.
Dave has been involved with building portable structures for a number of years in Ohio and wanted to start his own company. The timing seemed right to start here and although with the economy things were a little slow at first, things have taken off and in the Winter of 2013 / 14 we moved the business to a larger building where we can build much more efficiently. We really do appreciate the business and support from the people of middle Tennessee and the surrounding areas.
We work hard to provide a family business where our children can work in a good environment while learning skills, good business ethics, and the importance of working hard.
Dave does the purchasing, delivers the buildings, sets them up and helps with sales.
Charity is married to Ben one the builders, they are expecting their first child in June.
Luke Melton is our office Manager & is here to answer any questions you may have about the buildings or building process.
Faith helps with the Bookkeeping and keeping records straight.
Josh is now delivering the smaller buildings as well as escorting the larger ones and helping with building setup.
Crystal our oldest daughter is married and lives in Kentucky and we now have two grandsons, Miquel and Caleb.
Sarina is now Dave's helper and frequently goes along to help level & set up the buildings, she is a animal lover & will make friends with all your pets.
Natasha helps out as needed, making or folding brochures. She also cleans the office weekly and helps with bills.
We now have three large bays where we can build 3 buildings which helps speed up the process. You may also talk to Ben, Chilo, and Mark our  builders depending when you come to visit. Feel free to take a tour of the shop where you can see the work in process.
Y'all come see us,
Dave & Faith King  & Family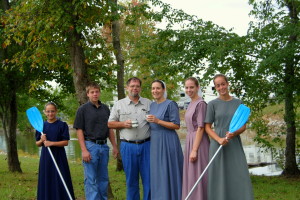 Mission Statement:
Psalm 127:1 "Except the Lord build the house, they labor in vain that build it: except the Lord keep the city, the watchmen waketh, but in vain." This is a Mennonite family business and our goal is to have builders work here who care about our customers and work hard to please them.
Our Purpose:
To glorify God by demonstrating godly principles and business practices as we serve the community. To provide quality products to our clients at an affordable price, with customer service that communicates honesty and appreciation. To provide a workplace atmosphere that upholds biblical work ethics and encourages our builders to want to do a great job.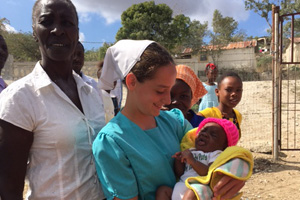 Haiti
We took a trip to Haiti this Spring. We wanted to show our two youngest daughters where they were born. Natasha crochet Ed some little hats for babies and here she is with one little Haitian baby with a hat to keep her warm in their drafty little huts.