Create your own Combination barn just how you want it! Introducing our new Combo Barn! These barns can be ordered as animal shelters and sheds in one.
Why buy 3 or 4 buildings when we can build you just one building that will meet the needs of all your animals!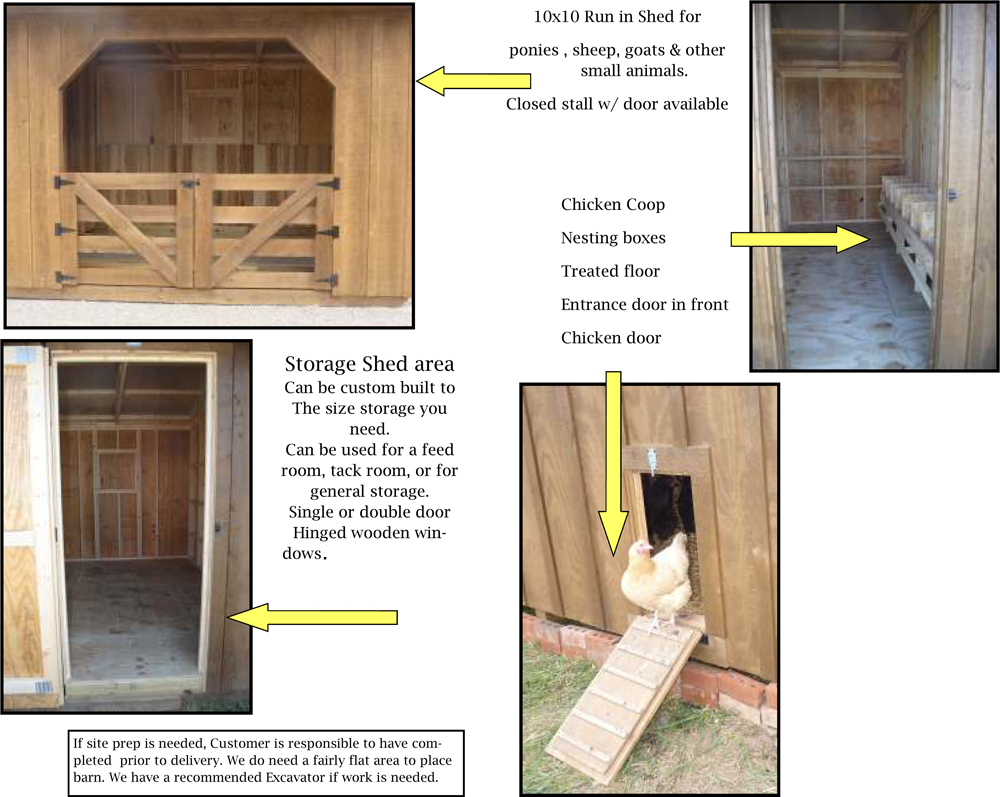 Features:
Board & batten rustic siding– 5/8" RBB board w/ 1×3 batten
1– 30"x30" wooden hinged window in each section. (optional 24×27 glass window)
8' high walls storage area includes
5/8" Pressure treated floor in storage area or coop
Partition wall between sections coop section includes
48" high kickboard in run in stall
2 Center skids removed on site
Add A Chick Coop:
6×12 Chicken coop
6×10 Chicken coop
Chick Coop Features:
Chicken nesting boxes with outside egg door
Chicken Door (small one for chickens)
Entrance door with wire & Plexiglas
For more information, download our brochure.
What Our Customers are Saying
"Hi guys, I just wanted to touch base with you to let you know how much I have enjoyed my barn. It has worked out so well for my horses. They love hanging out in the stalls. This winter was so easy because my guys had such a great barn to stay warm and dry in.Everyone who sees it cannot believe you built it off site. My dad just asked for your website because he wants to show your barns to his friends in Knoxville. The quality workmanship and design have been superb. Thanks so much!"
– Timi Smith, Franklin, Tn