The dream to live off the land and be self-sufficient sent Dan and Barbara Tedesco to Cumberland Furnace, Tennessee, ten years ago to settle on a 45-acre farmstead. They had researched homesteading while living in Florida, and when Dan's company downsized, it seemed like the perfect time to make a move.
Turning research into reality, the Tedescos purchased a herd of Nigerian Dwarf goats and a variety of chickens, planted herb and vegetable gardens, and switched their water to run on solar power. Today they sell milk, butter, cheese, soap and eggs, mostly to homeschool groups and their church family, and give tours of their homestead.
"It's evolved," Barbara says. "We're trusting in the Lord to tell us what's going to work and what's not. We're seeing where this goes."
This spring Barbara is waiting for her first batch of Icelandic chicks. A rare heritage breed, the Icelandic chickens are available only a dozen at a time. "I had to be put on a waiting list for them," Barbara says. The Icelandic bird was featured in BackYard Chickens and had grabbed her attention. "They are trying to make a comeback for this heritage breed. I thought I would help get them back off the endangered list."
Knowing she would need a home for her growing flock of chickens, Barbara stopped by Hilltop Structures to see about a chicken coop. After talking with owner Dave King's young son, she knew this was the place where she wanted to put her money. "I wanted to do modifications, and his response was always 'We can do that. We can make that happen. We can do that.' I loved that."
When the coop arrived, Dave King maneuvered it up a hill "between 20 trees," using a specialized machine called a mule. The mule lifts structures onto wheels and easily maneuvers them through tight spots. Barbara says. "There's no way a trailer could have gotten in there. But he had no problem. He was able to get it wherever I wanted it."
True to Barbara's order, the coop came in brown paint and a red roof. She added more color and style by decorating the coop with curtains, something visitors often comment on as "neat."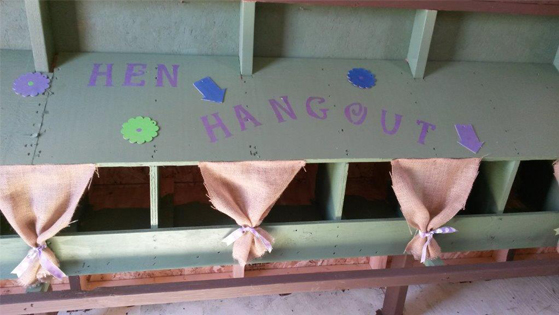 The Tedescos glued a large sheet of laminate on the coop's treated plywood floor, sealed the cracks and then painted any exposed wood edges. "Now we can go in with a water hose and spray it out to clean up," Barbara says. Chicken wire below the roosts allows the droppings to fall through to containers that catch it from below the coop. The containers easily slide out from under the coop andthen are simply carried to the compost pile. "Cleanup is a breeze," Barbara says.
Sturdy chicken wire also protects against predators coming up through the bottom of the coop and through the front door. With a front door and back window that can be opened, the chickens receive plenty of cross ventilation that's important for their respiratory systems. The insulated roof keeps them cool in summer and warm in winter.
"You can build your own coop for less money, but you're not going to get quality and care like the ones Hilltop offers," Barbara says. "If we take care of it, this coop will last us 'forever' . . . 20 years easily."
For the Tedescos, the next 20 years could hold endless possibilities. They continue to researchand plan for the next phase of homesteading. "With the internet and library, there's no reason we can't do anything," Barbara says. That may or may not include adding Dexter cows, a larger garden and another chicken coop.