It's summertime, and for many people that means crackling fires and camping time. Some prefer to sleep in tents, while others pull out their RVs and campers. Still others prefer the comfort of a cabin while enjoying a rustic outdoor setting.
At Ron and Libby's campground in middle Tennessee, campers can now choose any of these three experiences. The couple purchased the campground last year and turned it into a KOA, the nation's largest chain of campgrounds. This spring they added two beautiful, new camping cabins from Hilltop Structures.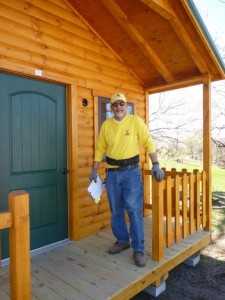 It's something KOA customers were asking for – cabins that have the luxury of kitchens and bathrooms but also the rustic charm of the outdoors. Adding cabins to the campground has generated new customers and a lot of interest, Ron says. "I told Dave to be on standby . . . I might need two more cabins this fall based on the response we're getting."
Going with Hilltop Structures meant being able to work with someone who could give them personal attention, Ron says. It meant being able to design the cabins the way they wanted them, from the color and treatment of the wood to the sizes and locations of the windows and the number and locations of the outlets.
"We didn't just take a photo in and say, 'Here is how we want it,' and walk away. We needed someone to listen to our needs and respond to them . . . Dave and his daughter Charity were real receptive and willing to work with us."
That Hilltop could deliver the cabins was also "critical" to the campground owners and allowed them to save on shipping. When it came time to set up the cabins, Dave King and his son brought in both cabins at once. They leveled the ground and set the cabins onto bricks, first one and then the other. "They worked hard to get it done and get it done quickly," Ron remembers.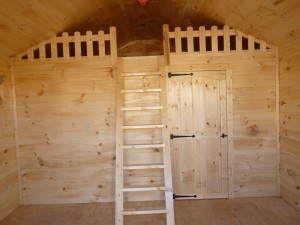 Ron and Libby filled the cabins with beautiful Amish-made log furniture, ordered through Hilltop. They installed flooring and added appliances, air conditioning, and plush mattresses. Libby hung up a rustic "Welcome to the cabin" sign, as well as hooks and other homey touches. Outside each cabin, they set up an umbrella picnic table and a fire pit.
Now that customers are using the cabins, Ron and Libby are getting good feedback on the quality. Some have asked, "Where'd you get these? We'd like to contact the manufacturers." Quality craftsmanship is something Hilltop Structures strives for, as do most Mennonite and Amish craftsmen.
Anyone from single people to families to retired folks are enjoying the one- and two-room cabins. Some are travelers and need a place for the night. Others are looking for an outdoor experience to make memories with family and friends. Customers can build campfires and take walks through the woods while still enjoying the comfort of a mattress, air conditioning, and a kitchen to cook their own food. "They can enjoy the outdoors at the outdoor price versus a hotel," Ron says.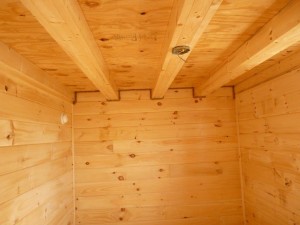 Across the campground, tents nestle near bushes and RVs rest underneath giant shade trees. Late evening sunshine streams across the peaceful setting. Outside one of the new cabins, a family of four laughs and roasts marshmallows and then heads inside to experience the rustic comfort and quality of a Hilltop cabin.