Spring is the time of year people are ready to get out of the house and one of the first tasks they often tackle is cleaning up their garage. It's the perfect time to clean out, de-clutter, reorganize, make room for the new lawn mower, motor cycle or other "new toy".  So what better time to buy a new storage shed from Hilltop Structures? Our custom storage sheds are great for storing everything from boy toys, Christmas decorations, excess furniture, fishing and hunting gear to outdoor equipment and tools. We use the latest high-quality materials, which include 4×6 pressure treated runners and floor joist with a solid ¾" tongue and groove floor, ensuring your possessions stay dry and safe!
One of the latest trends we are seeing is an increasing amount of man caves and she sheds. People are looking for a backyard get away that can be personalized to their own taste for studios, work space, or just a place to relax and meditate.
At Hilltop Structures, we offer six different shed styles- Jefferson, Traditional Classic, Grand Classic, Supreme, Deluxe and a Combo barn. Our portable storage sheds come in a variety of sizes ranging from 10×10 all the way up to 16×40. We use 50 year rated siding and 40 year #1 metal roofing. We also have a 12-month workmanship warranty. We also offer custom storage sheds built on your specifications. There are many features and upgrades available and our storage sheds are customizable to your specific needs. Ask us about our rent to own and financing options available!
We are constantly looking to improve, upgrade and add quality to our buildings. Here are some of the upgrades you will notice:
We use #1 Spruce studs and framing materials, this means minimal or no bark showing.
We use ring shank galvanized nails (not staples) for fastening all exterior siding and trim.
We offer roof overhangs on all 4 sides to protect your siding.
Updated colors, stains and styles. We are experimenting with more Urethane stains, check out our mahogany / galvalume combination or driftwood with white trim and black roof.
We have updated the look of our Deluxe and Traditional Classic storage shed to a new door design.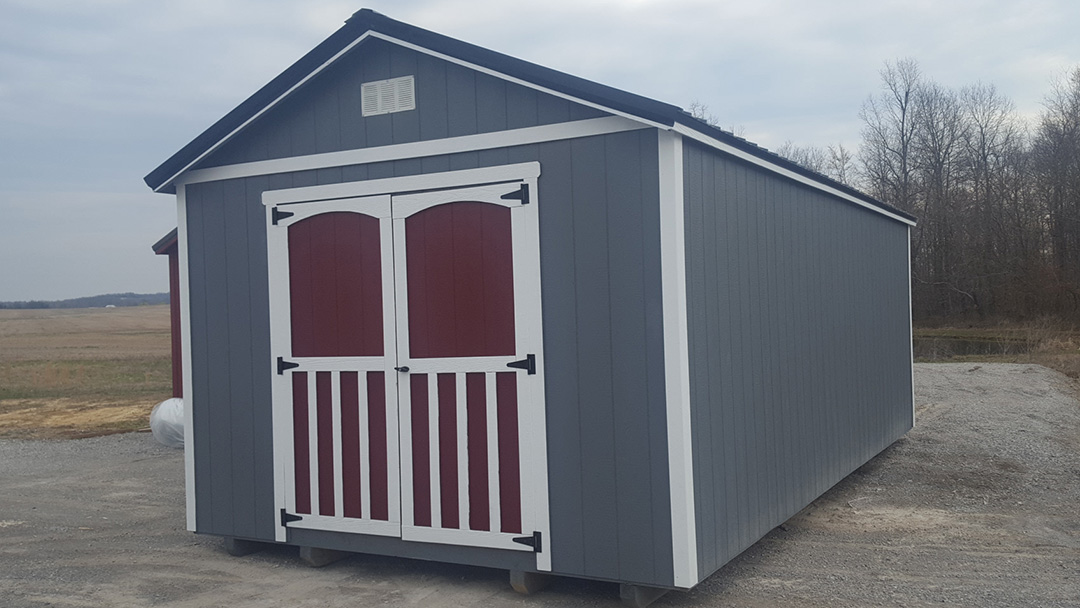 At Hilltop Structures, we don't guarantee the absolute dirt cheapest storage sheds on the market, but our goal is to sell and deliver a quality product for a reasonable price that you will be pleased with for many years to come. These days you can find storage sheds on every corner, we realize you have many choices and we are trying hard to educate our customer base on what to look for in a quality shed. You can go to a big box store, buy a basic kit and spend all summer trying to cut out and fit all the pieces together and in the end you will have saved only a few hundred dollars. Save yourself the stress and the few nice weekends we get in an average Tennessee Summer for family outings, and let us do the sweating for you!
If you are in the market for a storage shed, the time to buy is now! With the new NAFTA agreement with Canada and Mexico being negotiated and the recent metal tariffs, the price of lumber and steel for metal roofing is on the rise. We will do our best to hold our prices and still deliver the quality products that you have come to expect.
Check out our current inventory online or come by our lot to choose a storage shed that fits your needs.
You can conveniently shop from the comfort of your home, we have all our buildings online in an inventory folder.
We accept credit cards for the down payment so the process can be very streamlined for your convenience.
Check our inventory and select the building of your choice  (or custom order colors, model & size)
Call our office and discuss payment options, Rent to Own / Cash / Installment Financing
After you receive the emailed copy of the purchase agreement, sign it and email or fax back to our office.
Call in with your Credit Card info to pay the deposit.  (a copy of the receipt will be emailed to you)
Luke our Office Manager will call you and discuss delivery options / dates
Our delivery Crew will bring the building out, put in place and level up for you at no extra charge
You then can sign the RTO paperwork and give first month rent or pay the balance in full.
Call us today at (615) 789-0062 or fill out our online form to place your order or get a free quote.