Whether you're furnishing a cabin in the woods, a mountain dream home, or a summer retreat on the lake, you can't go wrong with rustic furniture. At Hilltop Structures, we're happy to offer our Clients some of the highest-quality rustic furniture in Tennessee. Built by Amish families with extensive woodworking knowledge and expertise, our rustic furniture is available in aspen, red cedar, and reclaimed barn wood.
We have furniture to outfit every room in your home, including all sizes of beds and bunk beds, bedroom suites, dining tables and chairs, kitchen counter tops, bathroom vanities, and even love seats. We can also arrange the production of special order items if you don't see the furniture you want on our list. Best of all, we offer free delivery and setup on all bedroom suites within 75 miles of our showroom.
Why Choose Rustic Furniture for Your Home?
There is no shortage of furniture retailers in Tennessee. From high-end boutiques to furniture superstores to secondhand consignment shops, you have plenty of options when you're looking to furnish your home. But if you're looking for something different, rustic furniture may be the best option for you.
At Hilltop Structures, we recommend rustic furniture for just about any homeowner for the following reasons:
It completely transforms the look of your home.
If you're tired of the cookie-cutter look that's all-too-common in modern furniture, you'll love the unique style of rustic furniture. Whether you want just a single piece or you want to outfit an entire room, your new furniture will quickly be the centerpiece of any room.
It's built to last.
Most modern furniture is built for convenience and profits—not durability and longevity. The Amish families that build the rustic furniture we sell are dedicated to their craft, and they use only the highest-quality wood and woodworking methods when building beds, tables, dressers, and more. From the moment you lay eyes on our rustic furniture, to the moment it's delivered to your home, you'll know that you purchased something that's built to last.
It offers one-of-a-kind originality.
There's just something special about handmade furniture. From the perfectly smoothed and rounded edges, to the carefully preserved and stained wood grain, you'll get a level of attention and detail in your furniture that you simply can't find in mass-produced pieces that are available in chain stores and liquidators.

We Can Furnish Every Room in Your Home
Whether you love the softness of aspen, the bold colors of red cedar, or the weathered look of reclaimed barn wood, you can furnish every room in your home with the rustic furniture available in our showroom.
The Aspen comes from the Mountains of Colorado, it has some very unusual knots, twists and marks that may even have come from an elk chewing on the tree.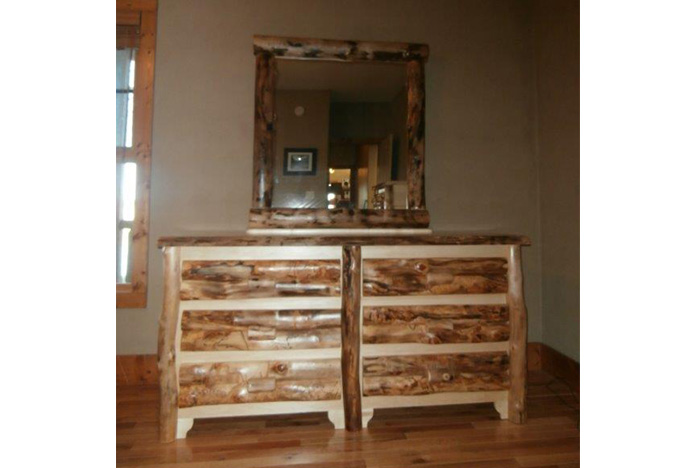 The barn wood comes from old barns or houses and is sorted, kiln dried and still has nail holes and has character .
The red cedar is a beautiful red color with white streaks accenting it, it has the famous red cedar smell. So whether you choose the aspen, barn wood or the aspen you will be in for a treat.
Beds – Twin, Full, Queen, King
Bunk Beds
Under bed storage
Night Stands
Chest of Drawers
6 Drawer Dresser
Framed Mirror for Chest of Drawers or Dresser
24″ x 51″ x 25″ High Cedar Chest
Coffee Table w/ drawer
End Table w/ drawer
Bedroom Suite – Includes: 2 Drawer nightstand, 4 Drawer Dresser, 6 Drawer Dresser w/ Mirror & Bed
Twin Suite
Full Suite
Queen Suite
King Suite
Dining Table
Dining Chairs, with arms or without arms
Captain's Dining Chair
Slab Benches – 24″, 36″, 48″, 72″
Kitchen Cabinet Sink Base
Counter Top – solid wood
Bathroom Vanity
Top Cabinet
Love Seat (with or w/out cushions)
*Special Order Items also available* We can build almost anything if you have a sketch or picture.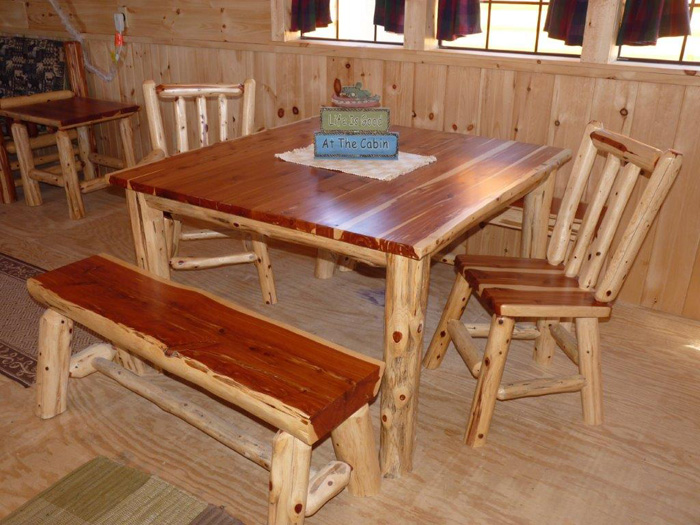 Interested in furnishing your home with our rustic bedroom, living room, and dining room suites? Call us at (615) 789-0062 to learn more or visit us at our showroom in Cumberland Furnace Tennessee. We're ready to help you find the furniture of your dreams.