Modular Pioneer Cabin
The Pioneer Cabin features a porch on the long side of the cabin. This layout gives you the option of two bedrooms, and one bath. This style has become very popular with the shed roof porch all along the front of the cabin and with the extra bedroom. This makes a great retirement cabin, Mother in Law suit or a cabin down by the lake.
Option #1
With our all new program you can now get a complete brand-new turnkey option in a modular cabin. With this option, the Pioneer Cabin comes complete with electrical, plumbing, cabinets, floor coverings and is move in ready. (hook ups and HVAC are normally not included) Speak to one of our office staff and they will help you design the interior that is right for you. These modular cabins are approved and will meet all Tennessee State codes. We currently are not offering modular cabins in any other state.
Option #2
For the DIY customer, this package will come as an exterior shell package that our team will install on your prepared foundation or footers. You are responsible for the installation of the electrical, plumbing, insulation & HVAC. Once all have been completed and your cabin has passed all inspections (if applicable), our finish team will come back and install the interior wood paneling, all interior doors and trim, spray the interior with a clear sealer and install cabinets and laminate flooring. With this option you can do as much or as little of the interior as you like. We have several different packages depending on how much you want Hilltop Structures to install for you. Ask for the Pioneer Cabin quick quote to see which option is best for you. These cabins are available for out of state deliveries, please check your local codes to see if any restrictions apply.
Standard Options Include:
Kiln dried white pine T&G Log Siding (all spliced are sealed with energy seal)
Rustic board & batten & 1×8 LP lap siding
Insulated windows (vinyl clay or bronze alum available)
Fiberglass doors either 9 light or solid 6 panel (more options available upon request)
40 yr. metal roof (ask about our new wave panel)
 Sealed with Perma Chink Ultra 7, stained with a clear coat sealer sprayed on to protect your interior walls.
Delivered and installed on your prepared site. Crawl space drawing available on request
Additional Options Available Include:
*R-13 insulation for walls only (in the ceiling we highly recommend using 5" of open cell foam)
*1×4 pine trim for windows & doors
*1×8" tongue & groove white pine interior siding
*1 starburst ceiling brace
*Thermal 3Ht All Weather Shield insulation under floor
1×8 L.P. Lap Siding
Crawl space or footings
Additional windows & custom sizes
2×6 exterior framing
Front porch with exposed beams and 4×4 square or round log railing
* Applicable on Option 2
*Interior Package (in kit form)
Stain Colors:

Roof Colors: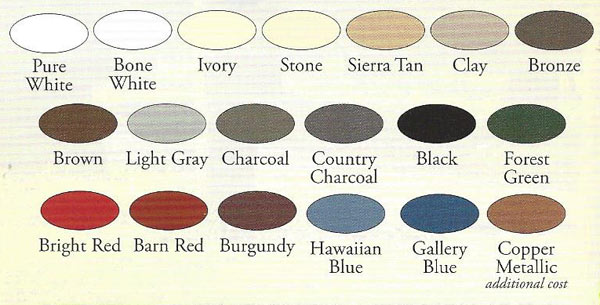 What Our Customers are Saying
"The cabin is great! It was just what we were looking for and at a very reasonable cost. Delivery was on time and exactly where we wanted it. Couldn't have asked for better service. Thanks again!" – Richard Frazier, Cunningham, TN
"It was very refreshing to be able to take a concept sketch of a cabin and watch it become a reality. The workmanship was top notch, on schedule and "as promised. The level of customer service and personal attention I received from the project lead man was very uncommon in today's world, I would highly recommend Hilltop Structures to even my most demanding friends and associates!" – Scott Graves, Hartsville, TN